Recently i obtained several unused Artus Flex knives, and i'm currently experimenting a bit with one of them.
All knives came complete with original box, leaflet, spare belt loops & mini-tool (to exchange them)
The Rockwell hardness sticker is still on the blade.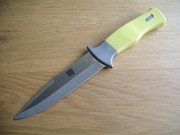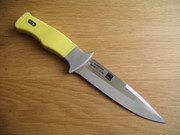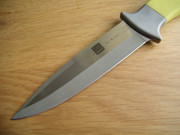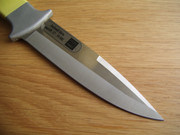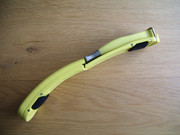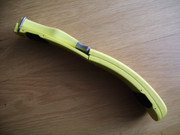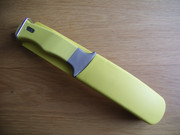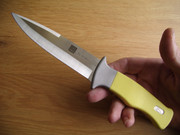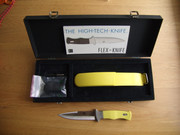 Specs:
Overall length: 9.69 inches (24,6 cm)
Blade length: 5.0 inches (12,7 cm)
Blade thickness: 0.96 mm (!)
Handle materials: aluminium guard & molded rubber grip
Sheath: glass filled nylon with spring steel insert
Weight (knife only): 119,3 grams
Weight (knife + sheath): 260 grams
This background info on these German made Artus Flex knives was translated from a German knife forum.
According to the poster the Artus company designed the original version of the Flex knife for use with certain government agencies (GSG9, BSG, and police) around 1988, and at that time it was solely meant as a tactical knife.
Apparently the idea was to make a fixed blade that would be rigid enough to both stab & cut well, yet which would also be flexible enough to be carried horizontally on a belt in a specially designed sheath which holds both handle & blade in an arc shape to better follow the contours of the human waist.
Once drawn the knife returns to dead straight again and is ready for use.
The poster said that he owned an early all-black Flex knife (but did not show any pictures), which he once received as a birthday present from his wife, who at the time worked at the Artus company in the German city of Lüdenscheid.
He also stated that at the time the Artus company designed & manufactured many more items for said agencies, like tactical vests, helmets, etc.
Some time before introduction of the Flex knife to said agencies however it all fell apart.
Apparently Artus' owner (or it's chief executive, the poster wasn't sure) was caught bribing a certain government official for his assistence in selling the Flex knives in larger quantities to the agencies mentioned, but somehow other authorities found out and the owner was arrested.
While still in custody the man commited suicide by hanging himself, and all of this seemed to have been quite a big scandal in the German press at the time.
The affair also led to quite a crisis for the Artus company, and among other things it was then decided to try to sell the Flex knives on the open market to consumers in an effort to recoup at least some of their investments.
A marketing campaign was launched, and the all-black tactical style aimed at military/police was thrown out to entice entirely different but possibly interesting markets like outdoor & sports, and the knives from then on were offered in various handle & sheath colors.
In the end however the Flex knife never became the success story that the company envisioned, and the then considered high introductory price of ~300 Deutschmarks (currently about 153 Euro or 169 US dollars) didn't help either.
The knife itself and it's sheath system however were definitely well made items from quality materials.
True, the designers seem to have gotten their inspiration for the overall appearance of the Flex knife from the classic Al Mar SERE fixed blade (to put it mildly), but from there the designers then created a radically different knife.
Pictures i took from the pages in the brochure: