Street violence and home invasions have been on the rise for several years now in the Netherlands, with almost all perpetrators being of muslim background.
Stigmatizing ?
Probably, but nonetheless very true.
They are mostly younger men of fighting age, and capable of extreme violence, especially towards the weak and the elderly, but basically towards anyone opposing them even in the slightest of ways.
With firearms as a legal means of self defense practically ruled out by our self-appointed elite (all of them having armed guards, riding in chauffeur-driven armored cars, and often living in well-protected gated communities, while most likely also having a secret firearms license for themselves), many ordinary people are looking for other ways to defend their life and loved ones.
A friend of mine lives with his young family in a remote rural area, where a few home invasions have already taken place with people he knows directly.
We almost never read about these in the media, simply because our MSM is in bed with the elite, and have decided amongst themselves to report as little as possible about these "incidents" as they continue to call them.
Especially where muslims as the perpetrators are concerned.
Recently i modified this Cold Steel Magnum Kukri to better suit the needs of my friend.
This Cold Steel/Lasher product in it's basic form has a very good price to quality ratio (even in this highly taxed country), it is legal to own & use on your own property (the adding of a sharpened swedge makes it illegal to carry and/or use on public streets or land) and with a little work it becomes even more useful for it's intended purpose, which in this case is to lie next to a bed hopefully never being put into use.
If however push comes to shove it will never malfunction, and nobody will blink an eyelid if the item needs to be turned in or disposed of after use.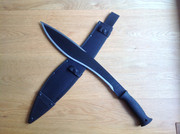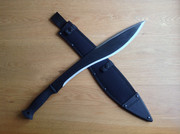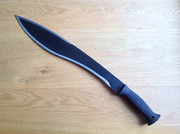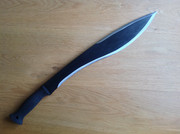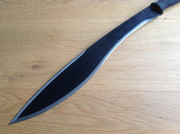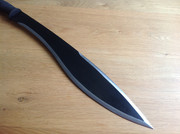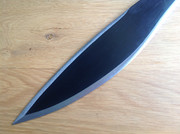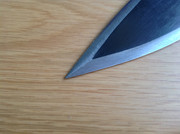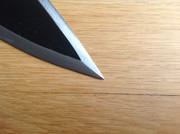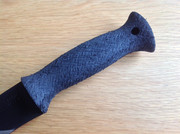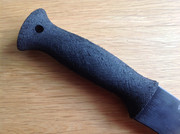 I put on a new convex edge as well as a convex swedge (apex on both measures +/- 30 degrees inclusive, which is as thin as possible yet thick enough) using only a cheap Chinese 120 grit diamond file, making sure that the microteeth in the edge all point a bit backwards for maximum bite in that direction.
Another reason for such a coarse edge is the fact that when being cut with, it hurts noticeably more compared to being cut with a finer edge, and the resulting wound also takes noticeably longer to heal (personal experience)
Both the main edge and the now sharpened swedge can shave the hair on the back of my hand a bit on skin level, which is most likely enough sharpness for it's intended purpose.
Both edges come together in a piercing point which will penetrate much easier than the factory version, yet the back of the blade leaves enough real estate to put your off-hand on to aid in blocking hits with a stick or bat.
The blade length of this particular model especially gives the wielder most likely a distance advantage, which can be very useful if the bad guys use a knife too (many home invaders here do, together with baseball bats): you can reach him, while he can't reach you.
Also gave the handle surface the "fuzzy finish" treatment for maximum grip in the hour of need, even with very sweaty hands.
Lastly i sanded the black coating lightly and then gave the whole blade including both coarse bevels a thorough coating with a good quality car wax (scratches hold the wax better), to help protect the rust prone carbon steel (and it's sharp edges) while it lies unused next to, or under the bed.
Another consideration in all this was the information i learned some time ago from a friend, who is an active duty Dutch Special Forces member.
He told me that when doing duty in muslim countries, and this may sound strange, is that the locals in general seem to have noticeably more respect for edged weapons then for firearms, especially when up close.
Never had this piece of intel verified by others, but i also have no reason to doubt him.
If true, and there would be even the slightest chance that brandishing this item could help to avoid a violent confrontation altogether due to it's perceived deterring effects, so much the better.
Specifications of this specific example:
Overall length: 22.24 inches (56,5 cm)
Blade length: 16.9 inches (43,0 cm)
Blade thickness: 2,93 mm (which is quite rigid, certainly not flimsy of wobbly)
Steel type: 1055 carbon steel (not stainless, but extremely tough)
Handle material: moulded on PVC (dampens shock effectively)
Weight without sheath: 546 grams
Weight with sheath: 674 grams