I continued my search for a carbon steel stag handled knife.
My searches mostly ended with baroque knife makers that used beautiful damast blades and fittings.
I enjoy watching what these artists and artisans make, but don't think I could make myself use one of their pricey pieces of art.
By accident I came across Tomas Rucker, a Czech knifemaker whose style appealed to me immediately.
I contacted him, explained what dimensions, materials, finish,... I wanted in the knife.
Tomas made a knife that excelled my expectations.
The smith has a website and a Facebook page, there are more pictures on his Facebook page.
These are the pictures that were sent to me by Tomas, I have permission to post them here.
Next to an artisan he is also an exellent photographer.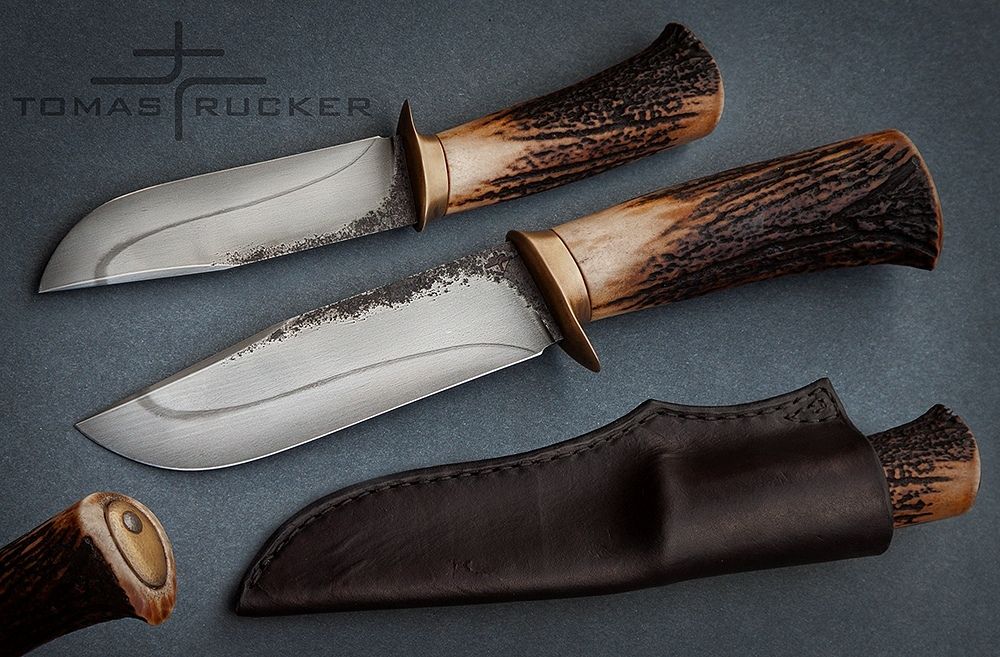 First, the specs:
Overall Length: 24.1 cm 9.48 inch
Blade Length: 12.6 cm 4.96 inch
Blade Steel: hand forged, differentially hardened spring steel from Jaguar XK140 from 1954
Blade Thickness: 4.5 mm 0.1772 inch
Handle: 10.7 cm 4.21 inch stag
Guard and buttplate: brass
Weight: 250 grams 8.82 ounce
Made in Czech Republic
Sheath: Quality hand stitched
The knife came with a very thin edge (as asked) and shaving sharp.
The hamon and patina are beautiful but got scratched with use.
It hones and strops easily.
I like using a knife more than looking at it, so first pictures of use:
For me, a good test is the slicing and cutting of an apple. The knife cuts the apple without splitting it.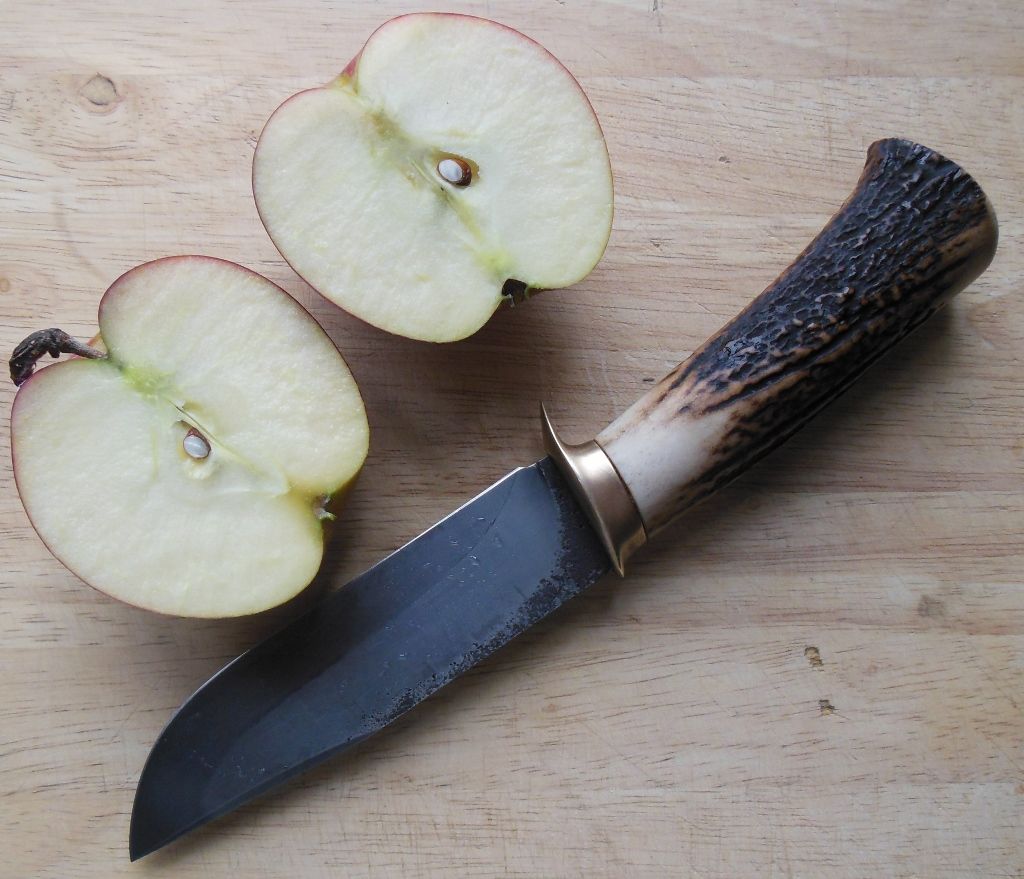 It can make fine cuts.
The point is a bit too beefy for this but it did ok.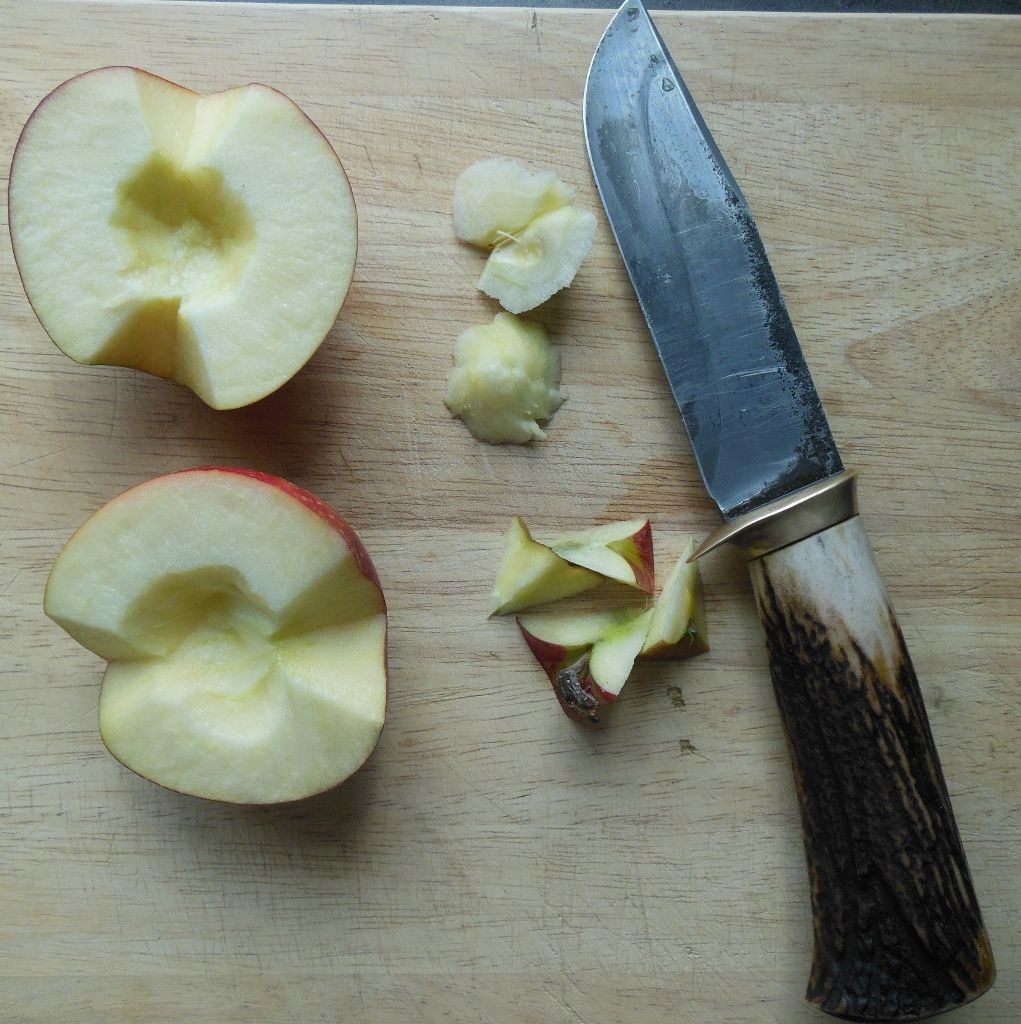 It passed this test with flying colours.
It got some more kitchen use. Cherry tomato and onion were sliced easily. Carrot was cut before it split.
Hard dry saucage was cut effortlesly. It performs well as a kitchen/camp knife.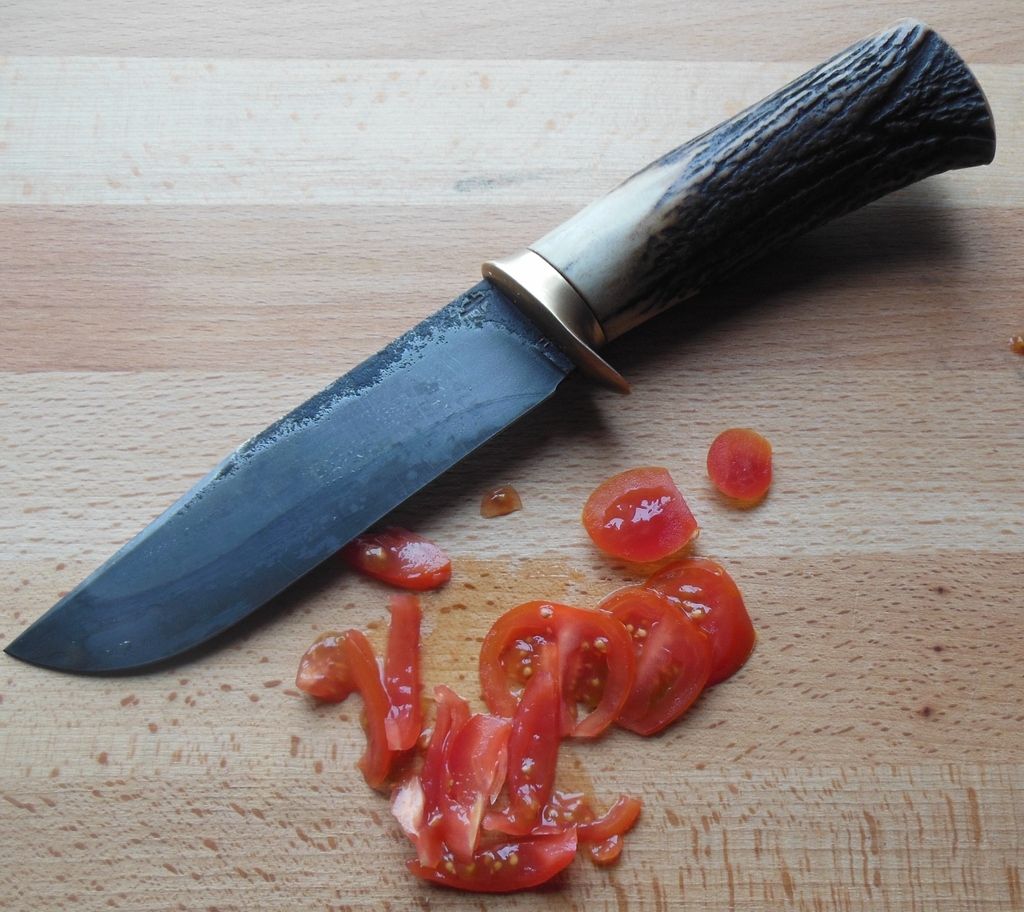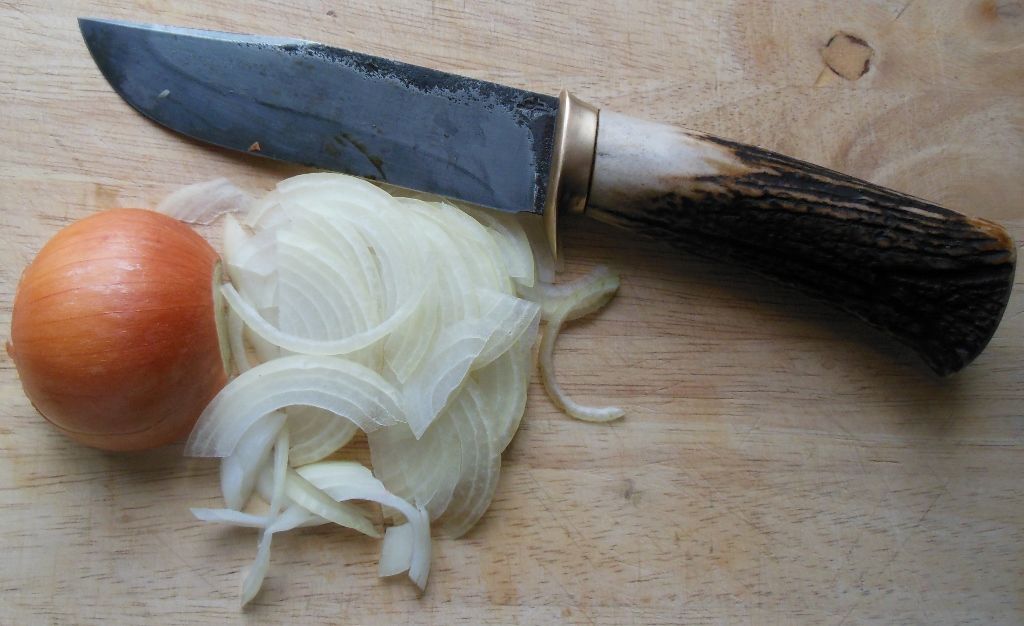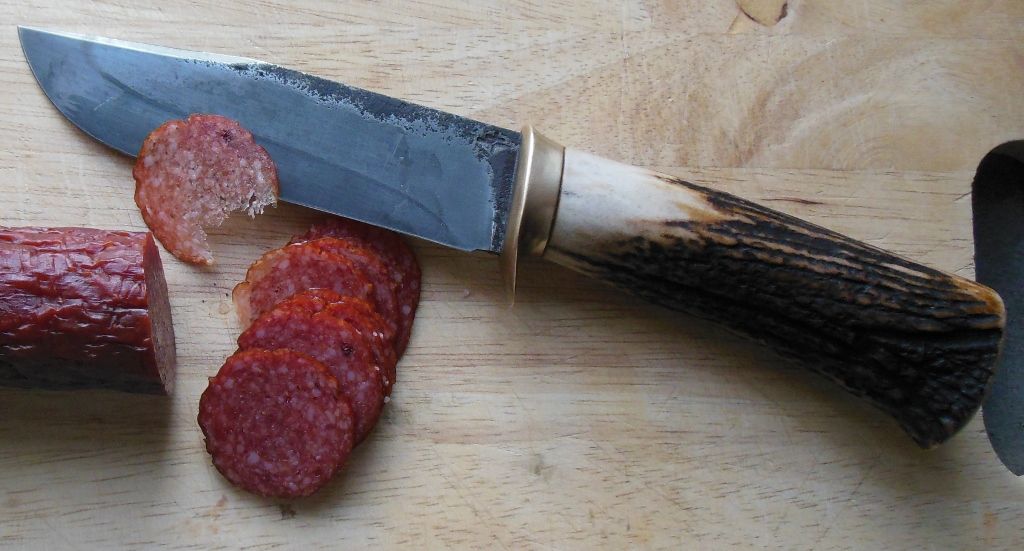 Next some bushcraft use. Due to the edge and blade thickness this is not a survival knife.
I used it to baton through wrist thick seasoned willow, pine, birch and oak. I didn't damage the edge.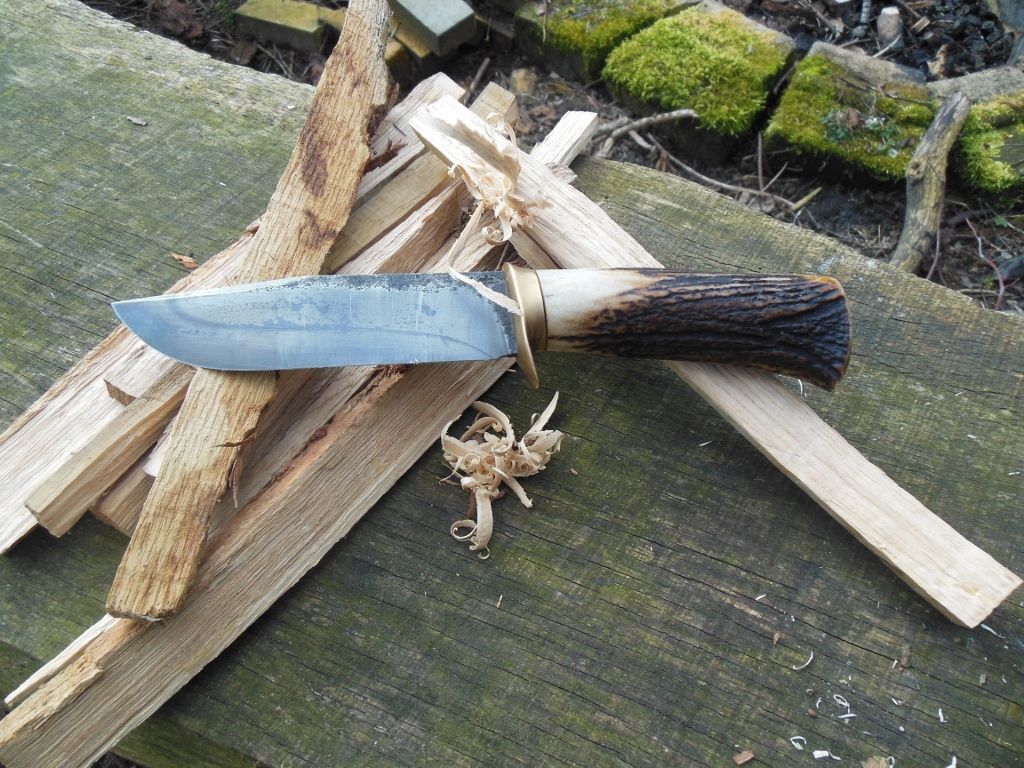 It made fine curls out of the split birch.
It was no problem to make fatwood curls, the back was sharp enough to scrape fine curls. (I think that) due to the differential hardening (back softer than the edge) it isn't possible to strike sparks with the ferro rod.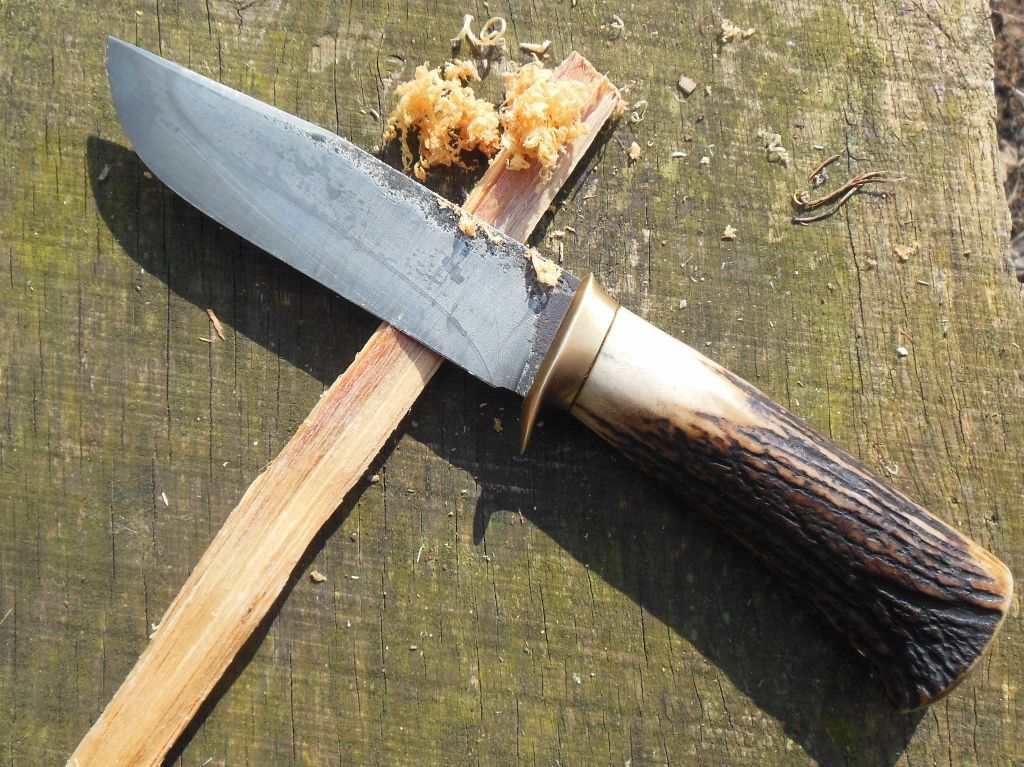 Fit and finish:
The fit and finish are excellent. The first picture is before use, the other ones after use.
The hamon and blade finish were beautiful but got scratched with use.
The brass pommel and buttplate have a nice patina, all fit tightly.
Tomas made the different materials fit nicely together.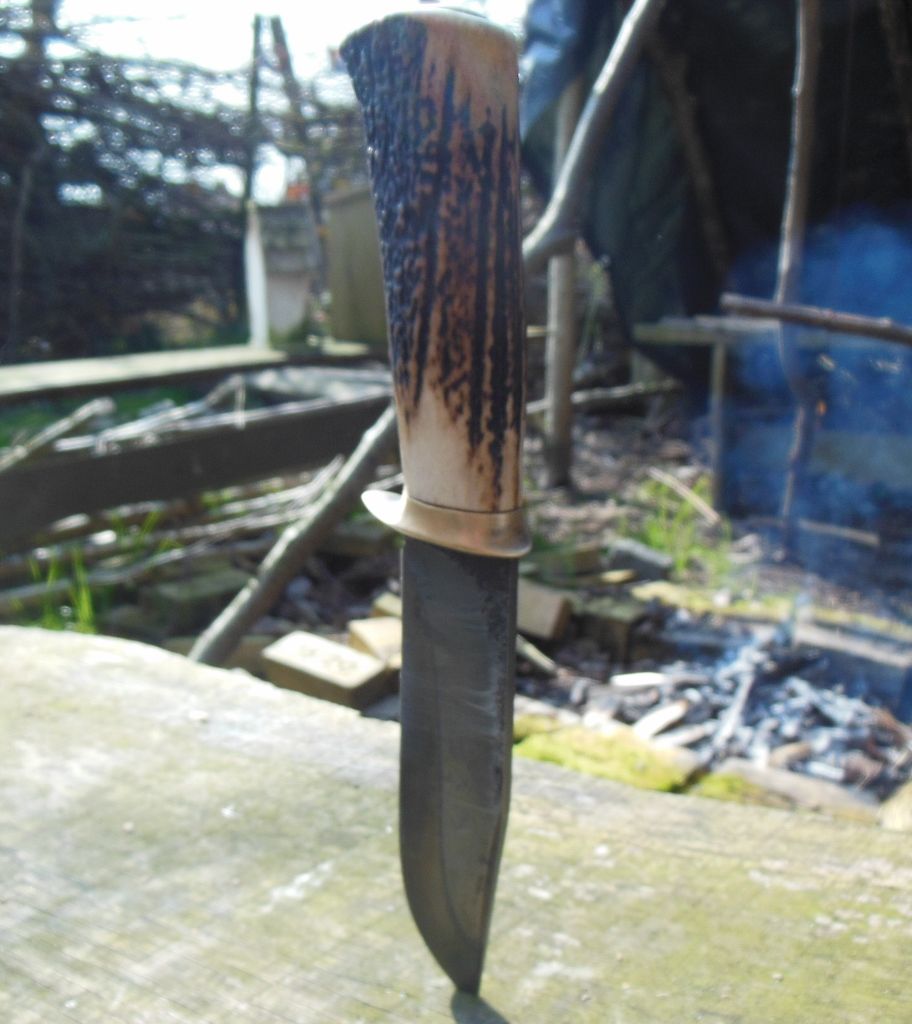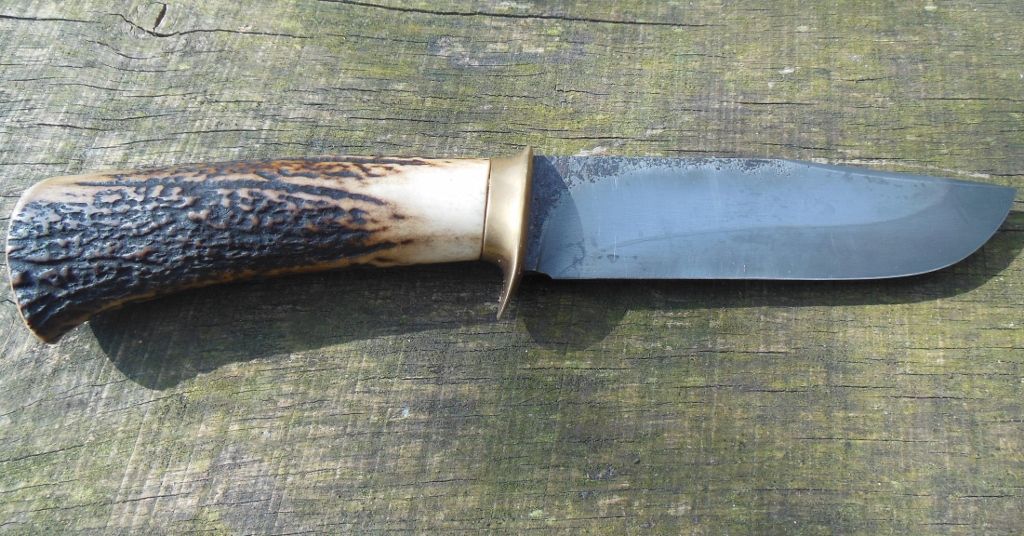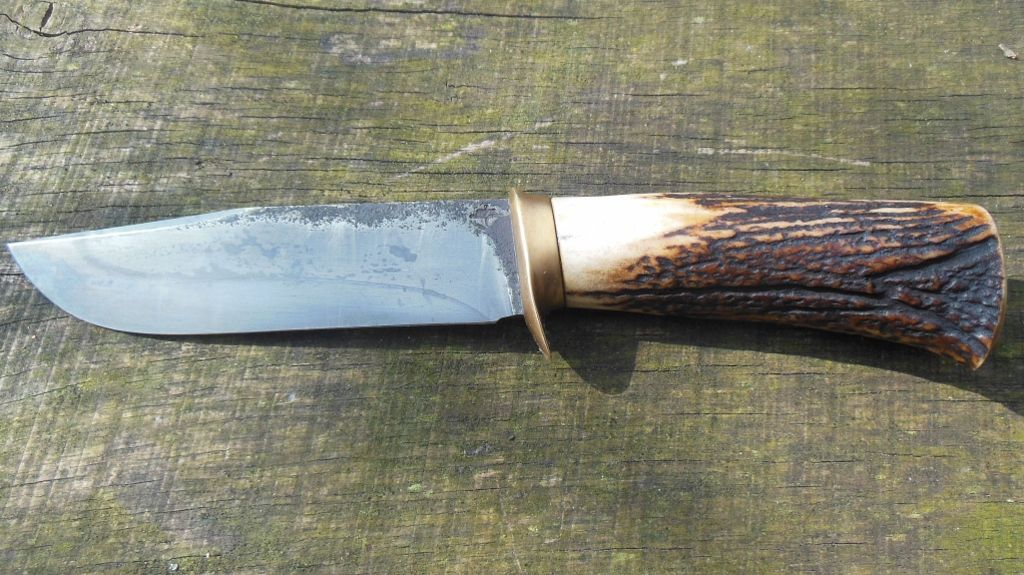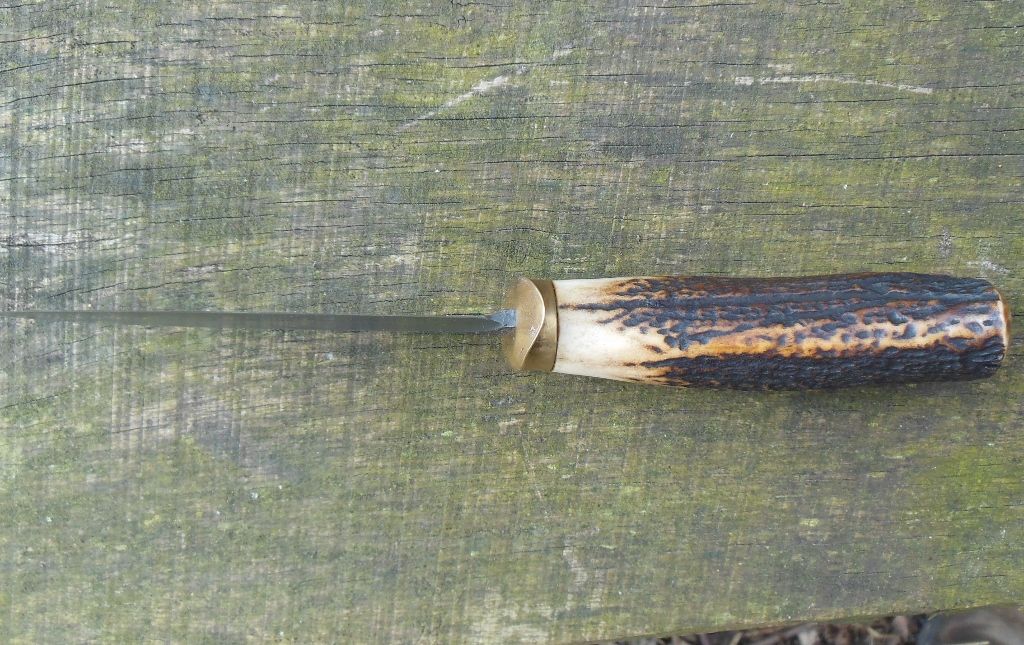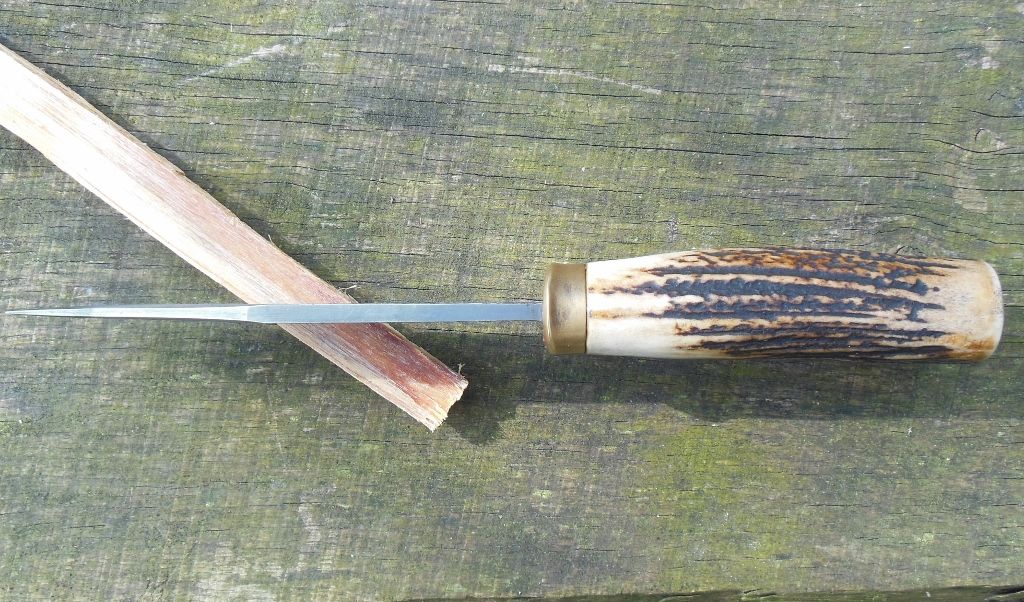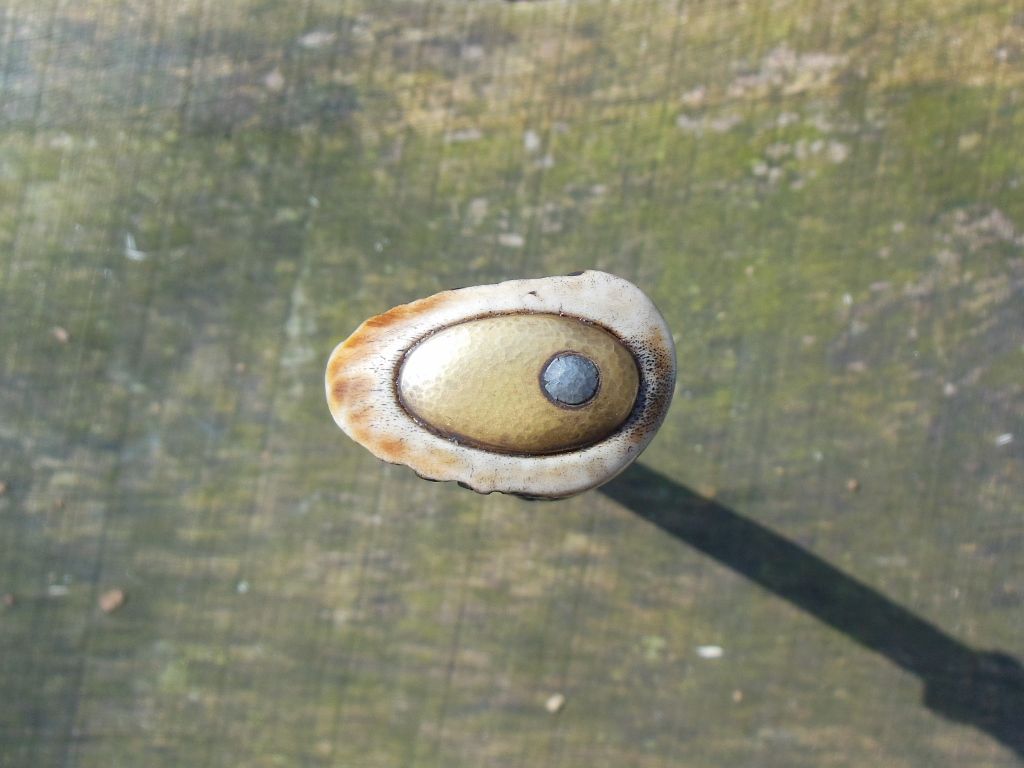 The stag handle fits my hand like a glove, very comfortable.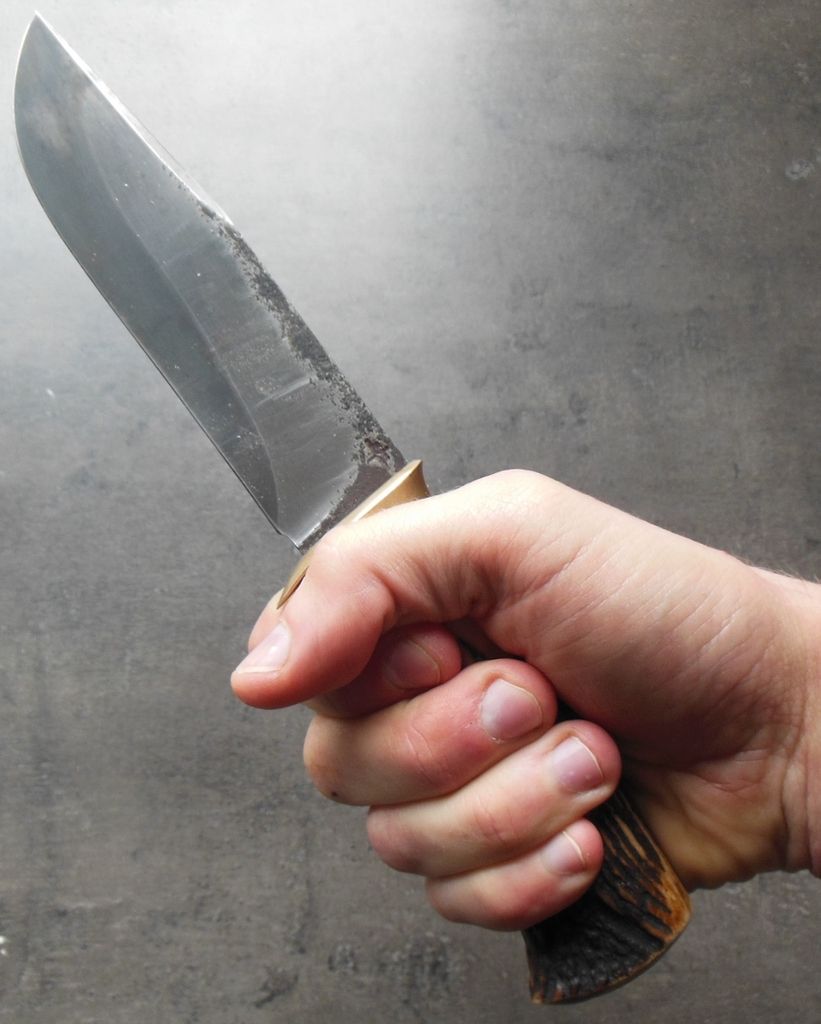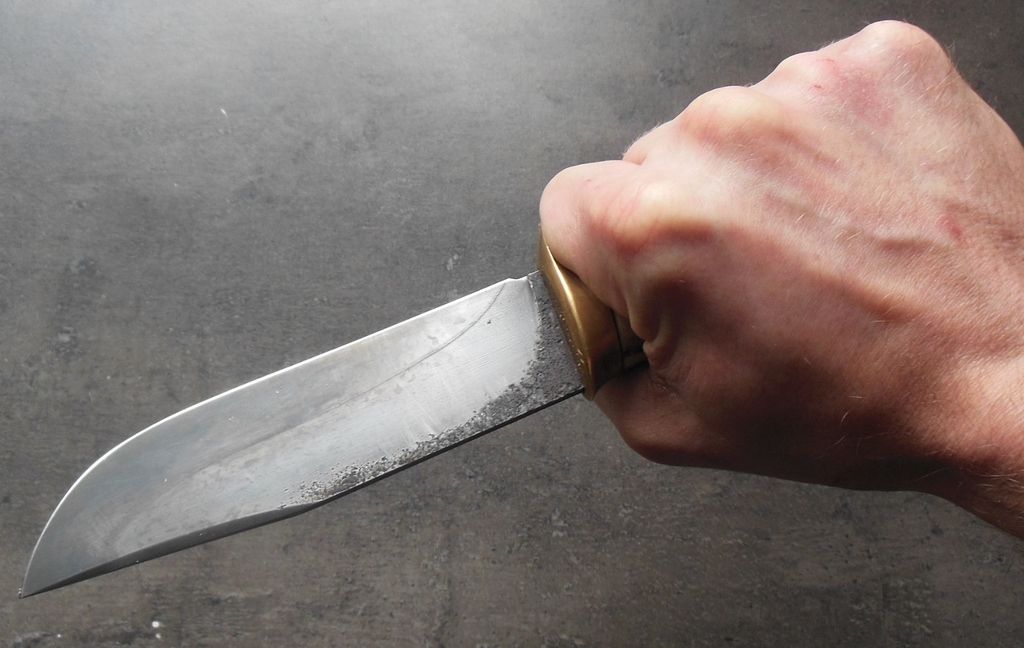 Tomas makes more adorned and complex sheaths but I choose a simple one. Stiff, hand stitched leather with a stiff belt loop.
It holds the knife thightly, it cannot fall out, not even when holding upside down and shaking vigourously.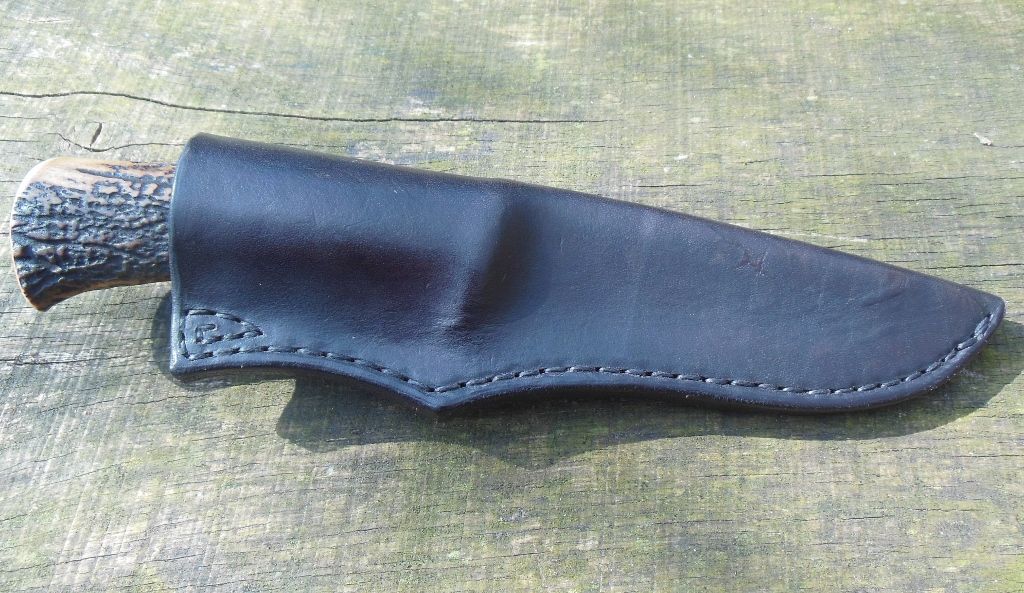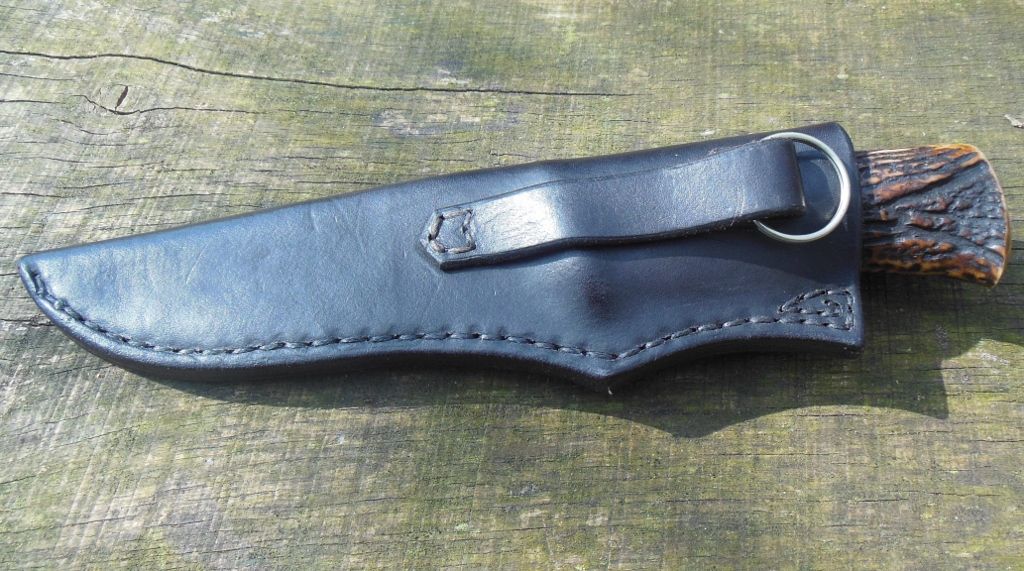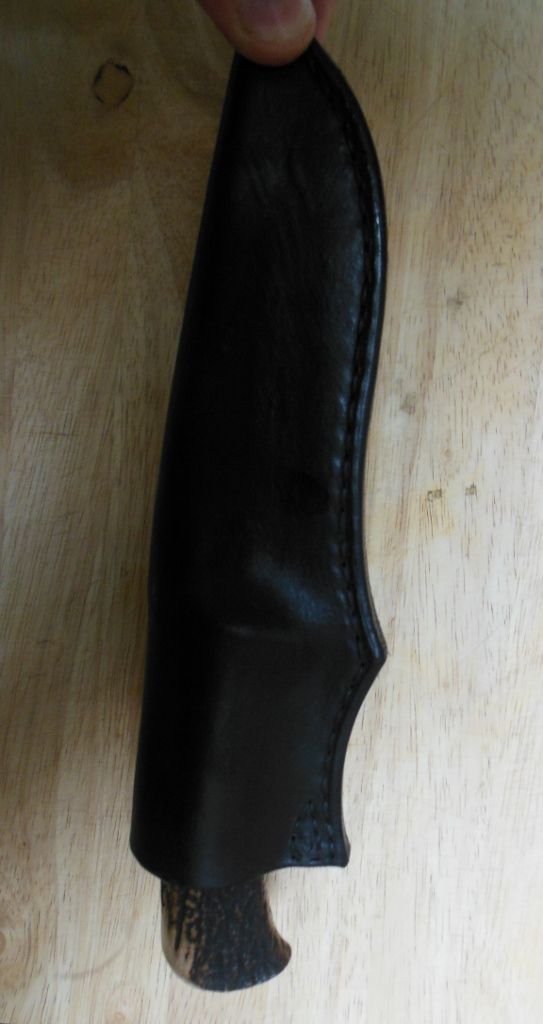 Conclusion:
Every aspect of this knife is better than I hoped for.
The finish and materials are in harmony. It feels like it was made for my hand and is balanced well.
Tomas is a artist and an artisan, his knives have a specific style and have a lot of character.
Natural, rough and classy in one knife.